How an Associate's Degree Can Benefit You
Published:10/25/2016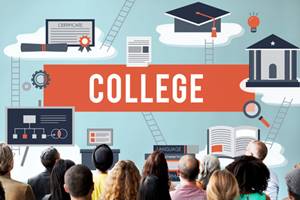 Whether you plan to work toward a four-year bachelor's degree or want to enter the workforce as soon as possible, an associate's degree can be a hugely beneficial stepping stone to reaching your goals. Here's how to make the most of an associate's degree.

If You Plan on Earning Your Bachelor's
Even if a bachelor's degree is your ultimate goal, an associate's degree is a great and cost effective way to get started.
Your first two years of college, you will mostly be working toward meeting your school's General Education requirements. These include core classes in subjects like English, mathematics, science, history, and sociology. An associate's degree can fulfill these same requirements at a much cheaper price.
Considering the massive cost of tuition at most four-year colleges and universities, starting your college career at a junior college or community college can be a very wise choice. You can spend your first two years of school fulfilling your General Education requirements without breaking the bank, then transfer to a four-year college to complete the second half of your bachelor's degree.
Many excellent four-year colleges and universities even offer direct connection programs that cater to students from local community colleges. These programs guarantee admission or offer extremely high admission rates to students who have earned an associate's degree at one of their partner colleges.
To recap, here are a few reasons that earning an associate's degree first can benefit a bachelor's degree hopeful:
Lower the overall cost of college tuition.
Increase your chances of being accepted to a top college or university in your state (if these schools offer a direct connection program).
Allow you to adjust to college-level classes and workload.
Acquire skills and knowledge that prepare you for a four-year college or university.
If You Want to Get to Work
Maybe you aren't interested in a four-year degree and want to join the working world as soon as possible. Taking two years to earn an associate's degree first can really pay off in the long run.
Compared to people with a high school diploma or some college (but no degree), those with associate's degrees make more money and have lower unemployment rates. According to the U.S. Census Bureau, the average associate's degree holder will earn about $400,000 more over the course of their career than those who hold a high school diploma alone.
There are also some jobs that will not accept candidates with less than an associate's degree, so you will have more opportunities and possibilities than someone with only a high school diploma.
For students like you who plan to immediately transition to a career after earning an associate's degree, there are technical degrees like the A.A.A. (Associate of Applied Arts) and the A.A.S (Associate of Applied Science). With these programs, you'll skip many of the general course requirements and get straight to your special interest courses. You'll also work toward being fully trained and certified for your chosen career field by the time you graduate.
The A.A.A. is a good choice if you plan to have a career in performance or visual arts, such as music, photography, or graphic design. On the other hand, an A.A.S. can prepare you for a variety of technical fields like automotive repair, accounting, paralegal work, nursing, agricultural operations, and more.
To summarize, here are a few reasons an associate's degree can be beneficial to someone wanting to join the workforce:
More earning potential and lower unemployment rates than those with only a high school diploma.
More job opportunities than you would have if you did not pursue any form of higher education.
Programs that offer job training and help you work toward required certifications for your desired career.
Ability to qualify for specialized jobs with fairly high salaries.
Even if you ultimately want a bachelor's degree or are itching to join the workforce, earning an associate's degree first can be a smart decision for your future!
Add Your Comment
Use the following form to leave your comment on this article.