Types of College Degrees
Published:10/23/2016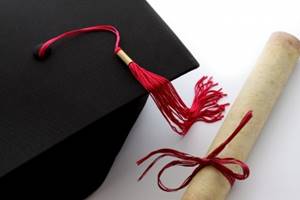 You want to pursue a college degree, but you don't know much about the degree options available to you. How do you know which degree is right for you? What are the requirements for each degree type? Here's a quick guide to the four main types of college degrees: associate, bachelor's, master's, and doctorate.

Associate Degree
An associate degree is a two-year degree that is typically earned at a community college, junior college, or technical school. Some colleges allow you to earn an associate degree online, and many high schools offer programs that provide you with the opportunity to earn credit toward your associate degree while still in high school.
To earn an associate degree, you will need 60 hours of coursework, including general education courses (English, mathematics, history, science, and possibly sociology) and other courses, depending on the type of associate degree you pursue.
An A.A. (Associate of Arts) includes majors like history, English, social sciences, and music. An A.S. (Associate of Science) covers programs such as biology and chemistry. You can also pursue an A.A.A. or A.A.S. (Associate of Applied Arts and Associate of Applied Science), which are designed to prepare students for the workforce. An A.E. (Associate of Engineering) is another option. Some students go on to pursue a bachelor's degree after earning their A.A., while others go straight into their selected career.
Careers that accept A.A. degrees include dental hygienists, paralegals, registered nurses, and a variety of technician jobs. Knowing your intended career is the best way to select the degree that fits your goals. While certain jobs will accept an A.A., many will not. If you're unsure what career you want to pursue, you may want to earn a bachelor's degree instead of limiting your options with an A.A.
Bachelor's Degree
To earn a bachelor's degree, you will need to complete a college or university program lasting four or five years. The degree requires general education courses and classes specific to your area of study.
The two most common types of bachelor's degree are the B.A. (Bachelor of Arts) and B.S. (Bachelor of Science). The B.A. focuses on the arts, communication, and humanities, while the B.S. is for students studying technology, science, or fields like criminal justice.
Other options include a B.F.A (Bachelor of Fine Arts) for singers, dancers, painters, or web designers, the B.B.A (Bachelor of Business Administration) for future business managers, and the B.Arch. (Bachelor of Architecture) for architects, of course.
Many students who earn bachelor's degrees go directly into their chosen careers, while others continue their education in pursuit of a graduate degree (a master's or doctorate).
A bachelor's degree will prepare you for a career as a teacher, graphic designer, journalist, insurance agent, mechanical engineer, physician assistant, public accountant, and much more. Most jobs will accept candidates with a bachelor's degree, although some require graduate degrees.
Master's Degree
To qualify for a master's degree, you must first earn a bachelor's degree, and then remain in school for one to three additional years, depending on your area of interest. Most colleges and universities offer master's degree programs.
The two most common master's degrees are the M.A. (Master of Arts) and the M.S. (Master of Science), but there are also many, many specialized master's degrees. These include the M.Ed. (Master of Education), MBA (Master of Business Administration), MLS (Master of Library Science), and MFA (Master of Fine Arts).
While most jobs either accept a bachelor's degree or require a doctorate degree, a master's degree can give you an edge when you try to land a job. It also qualifies you for a higher salary: The average salary for a master's degree holder in the United States is $92,000. This degree also provides you with additional study and job training in your field and can qualify you for more specialized jobs.
Doctorate Degree
The highest level of education is the doctorate degree. You will need at least a bachelor's degree to apply to a doctorate program, and these programs typically require four to seven additional years of study.
Doctorate degrees require coursework, individual study, and a final dissertation. Many doctorate degrees also require internships.
Options for doctorate degrees include a doctor of philosophy (Ph.D.), doctor of education (Ed.D.), doctor of medicine (M.D), and juris doctor (J.D), for future lawyers.
You will need to earn a doctorate degree if you plan to pursue a career as a clinical psychologist, college professor, physical therapist, surgeon, dentist, veterinarian, or government lawyer.
To select a degree option that will help you meet your goals, consider the degree requirements for your intended career, as well as the amount of time—and money—you're willing to commit to your education.
Author: Ashley Cullins
Add Your Comment
Use the following form to leave your comment on this article.